Patch History
APD Patch and Badge History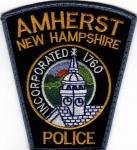 In the 1970's, the Department sought to create a patch unique to the Town. With the help of a local advertising company a design was created that reflects the colonial history of Amherst. The design, which depicts the steeple atop the Amherst Congregational Church, is set against a backdrop of rolling hills with the sun setting in the west. The setting sun is symbolic of the words of one of Amherst's famous sons, Horace Greeley, "Go west, young man". The border surrounding this scene includes the year the Town of Amherst was incorporated.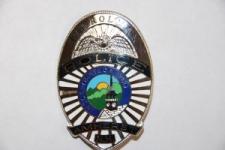 In the mid 1980's, an effort was made to design a shield which complemented the Department shoulder patch. After an extensive design process, a unique design was selected and the Amherst Police Association contributed funds to see the project through. The design features a full color enameled Town Seal in the center, below a large enameled banner of POLICE. Radiating from the Town Seal is a starburst eefect of rays, alternating between metal and white enamel. Two enameled banners below the seal identify the town and state. Perched above the POLICE banner is an embossed eagle with wings extended. Above the eagle is a polished surface into which the title of the officer is engraved.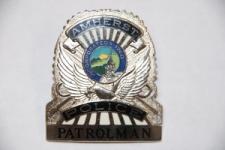 In the early 1990's, the final element of the process to create a unified look was completed with the design of a new hat shield. This shield again incorporates an enameled Town Shield in the center, this time resting in the uplifted wings of an embossed eagle. Two enameled banners identify the badge as the Amherst Police. The starburst effect is also repeated, utilizing the white enamel to create the effect. The base of the shield contains the polished surface for the engraved rank of the officer.